In Focus: Decentralized Social Media
Tech mogul Elon Musk's bid for Twitter has triggered people's imagination to the decentralized social media. Free speech, open source and transparency that he advocates are exactly the distinctive features of decentralized platforms, and some similar developments are already taking place in the LikeCoin ecosystem.
Hail Free Speech, Privacy by Default
Both social media Dapp – depub.space and Liker.Social are open source projects which have various features to safeguard freedom of speech.

Using depub.space needs no registration or personal information, all you need is a wallet address. As a "stateless" service, depub.space also minimizes information that users leave online. These "privacy by default' features are especially important for some users located in politically sensitive regions, as their personal safety is often at risk when they express their views.

In terms of technical design, the address based index also enables users to integrate with the other "decentralized identity" services. For example, users can use their wallet addresses to build their Desmos profiles. When using the same address to post on depub.space, their profile pictures and self descriptions will be automatically linked.
Not Your Key, Not Your Content
Based on Mastodon, Liker.Social breaks down the oligopolistic social media platform like Twitter to small communities. Each community is individually run but also interconnected. Users who are not satisfied with a particular community can always migrate to another one.

The biggest difference between Liker.Social and other Mastodon platforms, however, is that toots on Liker.Social can be published to the LikeCoin chain. Users own the content they create, and they could even mint NFTs in the future. Liker.Social supports one-click publishing to blockchain, while depub.space presets all content on-chain. Both platforms are built on the LikeCoin ecosystem.

Liker.Social also supports Civic Liker, which turns "Likes" to actual income and directly distributes LikeCoin delegation rewards to creators.
Immutable Publishing
Centralized platforms can remove or even delete your content. On the contrary, works published on blockchain will leave a trail and be maintained by the public. Even if depub.space and liker.social no longer exist, your content can still be found and read on other block explorers which support LikeCoin (e.g., app.like.co).
Recent depub.space and Liker.Social Updates
depub.space
Curated by volunteers, "Featured" list shows different topics according to different IP addresses.
Liker.Social
#Explore function
Trending tag list
Latest news
System setting for auto-deletion of toots
---
DePub Applications
Minting NFT Directly for WordPress Posts
LikeCoin WordPress plugin enables users to publish posts to blockchain directly. The development of LikeCoin's NFT module is at the final stage, and will be available for testing in May. Minting NFTs on LikeCoin is in sight!
Ivan So@HKcourse introduces how to achieve decentralized publishing on WordPress and bridge Web2 and Web3, which marks the first step towards "everything can become an NFT".
LikeCoin WordPress Plugin 2.5.4 Version
LikeCoin WordPress plugin has been upgraded to 2.5.4 version with the following new features:
Supports ISCN
Problems with the LikeCoin button setting are fixed
Problems with garbled ISCN subject lines and missing descriptions on article lists are fixed
---
LikeCoin DAO Updates
Passed Proposals
Validators who upgrade to LikeCoin chain v2.0.0 on likecoin-public-testnet-5 will be rewarded, as their support has made the upgrade of LikeCoin chain from Cosmos SDK 0.44 more viable. A total of 14 validators have successfully upgraded via the testnet, and they will share the delegation funds of 100,000,000 LIKE for a period of 6 months.
Voting
The TechSubDAO has been in operation for almost 2 months and is on track. Its expenditure is transparently listed here. If the proposal is passed, a total of 3,000,000 LIKE will be sent to the Tech Subdao multisig wallet as the second tranche of funds to LikeCoin's technical development.
The upgrade is scheduled on May 4th at around UTC 11:00AM, which includes a prefix change to like with dual prefix support, upgrading cosmos-sdk to 0.44.8, upgrading ibc-go to 2.1.0, adding authz and feegrant module as well as the deprecation of legacy restful API.
Community Call for May 2022
The next community call will be held on May 2nd 1030 GMT / 1830 HKT on Discord Community Call channel. It will focus on LaiChiKok, the forthcoming LikeCoin chain upgrade with like1 as the new prefix. Everybody is welcome.
Past Events
LikeCoin x Numbers AMA
LikeCoin x Numbers, New Network Action AMA was successfully held on April 15th on Twitter Spaces. Phoebe from LikeCoin and Numbers's CGO Sophia talked about the content and identity formation on Web3, and how LikeCoin provides creators with various decentralized publishing tools. You can find the recording here.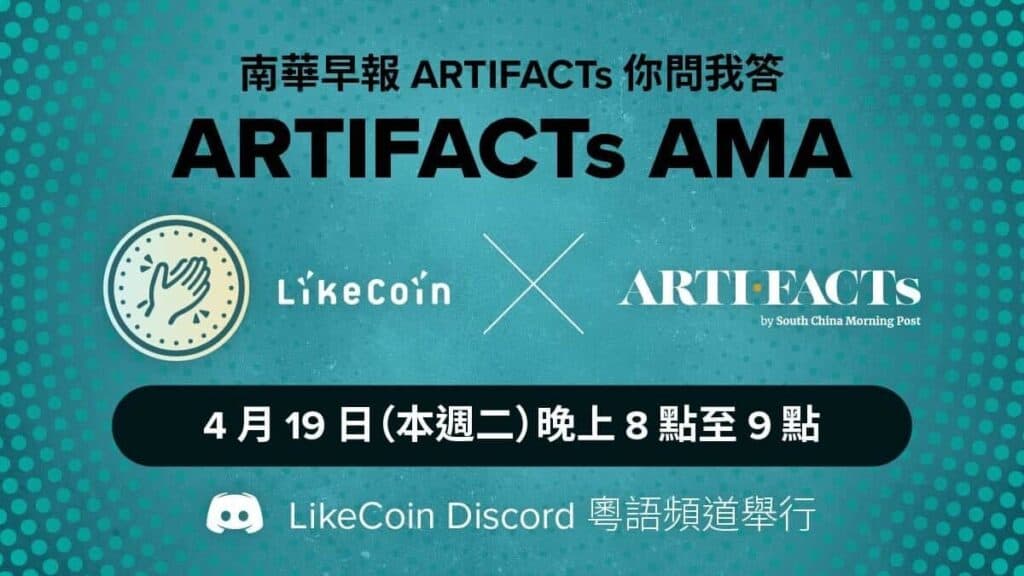 ARTIFACTs by SCMP x LikeCoin AMA
The event was successfully held on April 19th on Discord. Phoebe from LikeCoin, together with Henry, Rubio and Kyle from ARTIFACTs by SCMP, discussed decentralized publishing, traditional publishing and how media contemplates the outlook of blockchain. You can find the transcript here.
---
#depub space #liker social media