Ecosystem and Writing NFT updates to start in 2023!
Update of the ecosystem
LikeCoin chain upgrade
Planning for a LikeCoin chain upgrade, given Cosmo SDK is now in release at version so the team is exploring and doing research regarding this SDK updates including CosmoJS, the latest IBC interchange accounts. Also exploring the on chain royalties possibility for the NFT trading so that will be conducted in Q1. Notes will be put in the validator chat so that they will understand the progress.
Product Update
WordPress Plugin
Rolled out the WordPress plugin integration with the Internet Archive option, this feature in particular is to serve the media partner and several journalists who have been using the plugin for their sites, to be able to create a self-archive for themselves whenever they use the plugin. This also helps to gain some credibility and awareness given the brand of Internet Archive is globally known.
Writing NFT Progress Update
Prototype of LikeCoin NFT Marketplace
Primarily the current users and audience for Liker land will be writers and the Liker land will be a tool as long as writers can onboard their readers and monetize their fan base much more easily.  To provide enough incentives for readers to engage with their writers , the prototype of LikeCoin NFT Marketplace has been launched. This is also to explore the economic model that has been provided using Dynamic pricing in the Liker land Writing NFT setups. A really early prototype on GitHub which is a Marketplace that allows you to trade and sell your NFT that was issued on LikeCoin, on that place will not bond with the dynamic pricing system. Feedback and experience are welcomed as this will be something very different compared to the current Dynamic Pricing system of LIKE. Would like to explore and revisit the idea of the economic model that Writing NFT is currently pursuing.
Export feature of the NFT Dashboard
Users can now easily identify and export the collectors that they have on NFT Dashboard, previously collecting their blogs even Book NFT. This is a little tools that can help writers much more easily to maintain their fan base and this is also a primary goal that would like to help providers in the long run to enhance engagement with their readers and also to better manage their fan base so that in the future they can actually do more things with their readers, can airdrop things for them and can also identify who are they so there's a social graph function that is already available. Exporting the readers that have collected your things before. If this happened to be a feature that engage well with the current user base, will consider to add more featured around them for example to re-import defend base later on, etc 
These two are very early on prototyped so you won't be able to see any fancy layout before getting improved in the front end so do provide your feedback and what's your thought on around this as well.
Partners
Project Starling on Rolling Stone
Our partners Project Staring which is quite a big news for them. LikeCoin is very glad to be part of this project as well. This project is actually a use case that document War crime. LikeCoin also participated in the first one that they did and this is actually the second one that they did. This actually launching on The Rolling Stone, one of the leading media site is willing to feature this use case and whenever you click this archive page and you check on the metadata,  you can actually see LikeCoin ISCN is there and for this times this use case actually also link it back to our Explorer meaning all content in Rolling Stone is actually registered on ISCN and all the method of metadata will be able to seen on the ISCN Explorer so this is a pretty big achievement for Project Starling. Besides congratulating them, LikeCoin is very glad to be part of this project.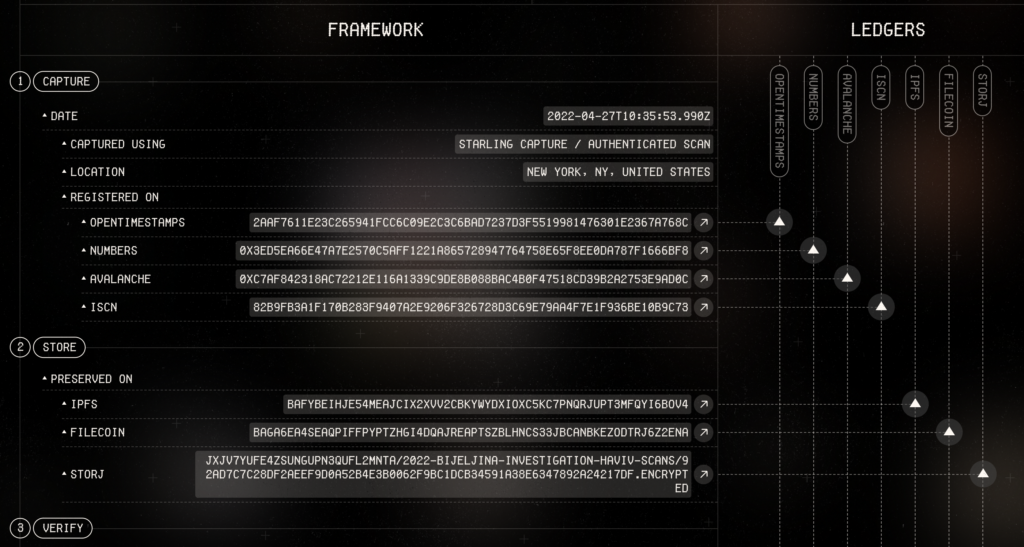 AOB
Updates from CDC
CDC is still finding people to fill in the room for a member of six, before that no new
progress can be made and if anyone is interested may actually ping the channel to be part of the CDC so that it can resume in terms of the delegation committee effort.
Funding opportunities
Liker Land is looking for more funding opportunities in terms of driving Writing NFT forward and also there are of course a lot of product updates pending on the feature list and other than that are also preparing for LikeCoin chain update so yeah that's basically fill out January.