Business Next Meet Event in Taipei
---
Wanted
Community volunteers to translate our weekly progress update to their local languages
Welcome to join our next meeting
Attendees:
Chung, Michael, William, Tat, Edmond, Edmond, Phoebe, Joshkiu, Aludirk, kin
Agenda:
---
@Chung (Blockchain Developer)
LikeCoin chain statistics (difference from previous week):
Number of LikeCoin wallets which have received LikeCoin: 5,838 (+148)
Total number of transactions on LikeCoin chain: 60,344 (+8,575)
Migrated LikeCoin from LikeCoin ERC-20: 312,734,017.4072 LIKE (+30,763,567.43)
Number of ERC-20 addresses still owning LikeCoin: 15,593 (-29)
Delegated tokens: ~241,250,000 LIKE (+410,000), 77.14% of migrated LikeCoin (-8.27%)
Previous week:
This week:
Continue on IPFS and chain development research
Discuss key management solution of the team's important private key
Previous week:
Deployed new Civic Liker distribution service update which fixes transactions stuck issue. It fixes the transaction sequence issue by queuing out of order transaction.
Wrote a Telegram bot for making post listing via Google Sheet. Already deployed on production, @Edmond and Daisy are testing it.
Working on Elasticsearch migration to AWS.
This week:
Continue the work on ElasticSearch migration, will translate ElasticSearch watcher alert to AWS alerting system. Will rewrite some of the watchers due to syntax change.
@William (Full Stack Developer)
Previous week:
Fixed some Liker Land app crash on Android due to ProGuard, will continue to monitor crash report.
Fix an API bug which might have caused Liker Land App session to expired. Contacted Firebase support and they have already fixed the issue on their side. Will continue to monitor the situation.
Added credit card billing information edit page in liker.land, added payment failure notification email with call-to-action linking to this page.
Tested new version of Authcore, which includes analytics and oAuth methods in user registration screen. Detailed release note can be found in the slack channel. The new version will be released today if no further issue is found.
Discussed Liker Land app authentication token logic flow and storage improvement with @David. Will try to implement it step by step.
This week:
Continue to work on App authentication flow/token storage improvement.
@David (Front End Developer)
Previous week:
Mitigated the app cookies issue, this issue forces users to re-sign-in every time they quit the app. Spent 1 to 2 days investigating, before firebase fixed bug as mentioned by @William.
Fixed not enough gas error when undelegating in app. This is due to balance checking bug, introduced when refactoring. The fix is included in 0.13.2, which has been released in Android. We are still undergoing Apple review process in iOS.
Added pull to refresh mechanism in App validator details screen.
Finished redelegation main flow, error handling is not done yet.
This week:
Will finish error handling for redelegation flow, and the rest of the task cards in stage 0 of app development plan.
Will spare time to implement A/B test on registration flow in /civic page of liker.land website.
Previous week:
Civic Liker no.: 1045, the trend of Civic Liker registration continue to go down after the Christmas boost. This is the first time we have a drop in total civic liker number. We expect this number to rise after lunar new year campaign.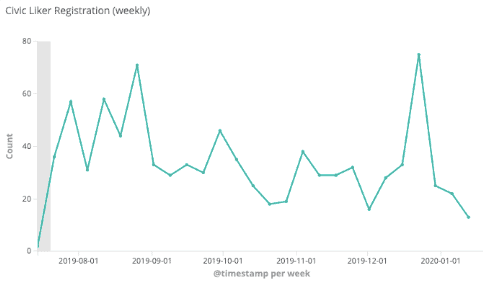 No significant improvement nor drop in conversion funnel (both LikeCoin button and Civic Liker registration).
New app download: iOS 145, Android 98.
Lunar New Year promotion campaign newsletter is ready, and will be sent out today, a boost on Civic Liker intake is expected as a result.
Spent some time lobbying bookstores and printed some Civic Liker promotional material for their use. HK bookstores are all connected and ready. No Taiwan bookstores are offering any discount yet, so we won't include them in the promotion list this time. We will roll out another wave of promotion later, during the Taipei book exhibition.
According to ENYK, the Authcore enhancement on data analytics and login page template will be deployed today.
Telegram bot for post listing is ready for production.
This week:
Prepare for A/B test in /civic login step — design and idea are ready, waiting for implementation.
LNY promotion campaign — prepare airdrops to Civic Likers, release affiliate program and bookstore promotion.
@Phoebe (Business Development)
Last week:
Research and outreach to Incubation programs and Fundings
Submitted application to DApp listings, mainly request on platform listing for Cosmos-based app instead of our actual LikeCoin app. Raised an issue concerning acceptance of Cosmos based DApp in DApp listings on Cosmos forum
Updating token listing info on Coingecko & Coinmarketcap. Will review and submit today after review by 高重建 | kin ko
Still communicating with BitAsset on the Coingecko LikeCoin listing data issue, some of the BitAsset's API wrongly return 0 to Coingecko causing display error.
Email campaign on December resulted in 19 new users registration on BitAsset, and created some trading volume.
This week:
Continue to set up automated email workflow to outreach potential users who have not registered yet.
Previous week:
Completed and printed all promotion materials, distributed by @Edmond weekend.
Completed UI design for redelegation.
Designed concepts and wireframe for Civic Liker / Writer Report feature of Liker Land app.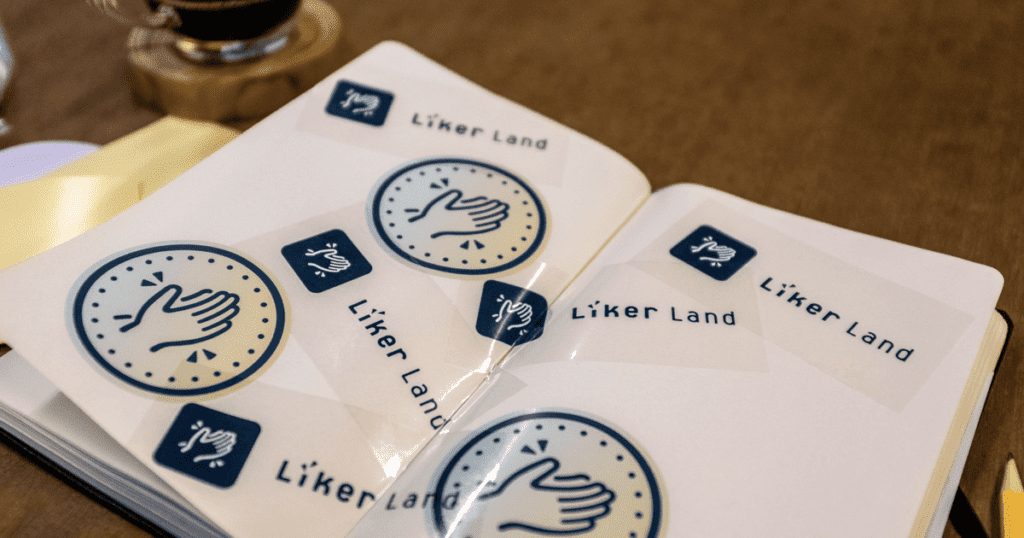 This week:
Will discuss with team on Civic Liker / Writer Report (app) feature, regarding technical issues or any concept change.
Will begin to design the revamp on liker.land/civic, the plan was to begin last week but was postponed.
@阿魯德克 (System Architect)
Previous week:
Solved the public IPFS gateway file discovery issue, tested on a machine without NAT, and our content can be discovered in minutes. In production environment there would be no NAT issue, so there should not be any problem now.
Started implementing IPFS storage plugin using Cosmos sdk store function, still researching, and discussing production architecture with chung
This week:
Continue LikeCoin chain x IPFS core design
Continue IPFS storage (with Cosmos SDK store) PoC
Previous week:
Had an interview by Business Next in Taiwan, already published: