10 validators seats are filled. The validator ecosystem is expected to become more vibrant.
---
Welcome to join our next meeting
Attendees
Chung, Michael, William, Tat, Edmond, Phoebe, Joshkiu, Aludirk, Kin
Agenda
---
Chung (Blockchain Developer)
LikeCoin chain stats on 2020.03.23 (vs. last report on 2020.03.16)
Number of Addresses: 8,999 (+307)
Number of Transactions: 150,550 (+13,337)
Number of Delegated Tokens: 253,420,000 LIKE (+270,000), 77.6% of migrated tokens
(Data and chart are logged here)
Previous week
Upgrade of Cosmos SDK version for LikeCoin chain was suspended
Proposal #1 passed, helped some validators to setup validator nodes
Held a Zoom tutorial on how to setup validator nodes
This week
Development of ISCN on LikeCoin chain
Discussion on validity of proof of existence with chain upgrades
Previous week
This week
Fix monthly report review from Kiu
Update documentation for Elasticsearch and dataflow
Previous week
Fixed and deploy web version of transfer
Finished MVP for like pay web widget, sent first version of tech spec to matters
Fixed minor bugs on payment and token migration
This week
Debug issues with ses and emails
Deal with changes for payment methods
Research into app referral bonus feature.
Previous week
Finished a quick update on like.co
Finished the share extension integration on Android, Brave browser support in iOS and added a loading indicator
Updated sign in screen UI with new design
Reverted the last AB test and conducted new test with horizontal flipped layout in Civic Liker entry page
This week
Will implement statistic screens on the app
Will spend time on AB test for Stripe payment flow
Previous week
Had internal discussion to speed up the road map for Liker Land app
Finished design of monthly report email
Modified the app for support for inactive validators
This week
Will sort out and propose a new road map for Liker Land app
Will participate in further discussion on A/B tests
One More Thing (two actually)
Final touching the Monthly report email, team please respond
Should talk with enky on Authcore feedback
Aludirk (System Architect)
Previous week
This week
Work on ISCN specs, schema & IPLD
Statistics review
Civic Liker conversion rate resumed
— The first step (click register) conversion rate of Civic Liker registration presents a mild increasing trend
— Lacking a way to track the annual payment user, making the last two figures not meaningful.
A boost in Civic Liker registration
A boost is observed in Civic Liker registration last week (70 registrations), which almost catch up last season's record.
Preliminary observation about the cause of boost: a better advertising strategy and nurture marketing email campaign.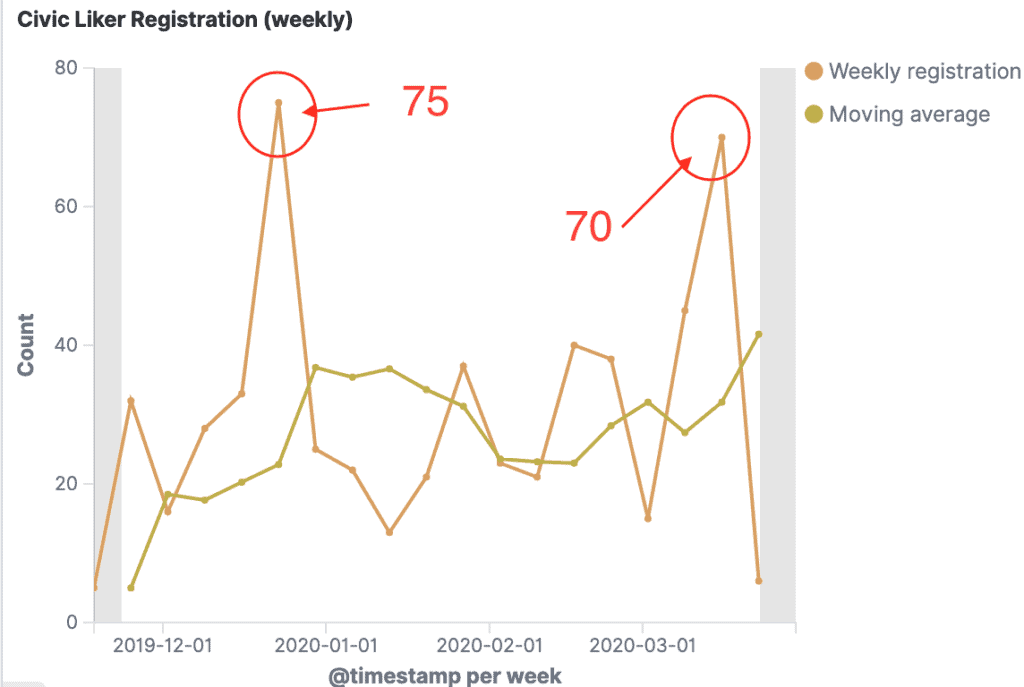 Source and Medium tracking
25% of the total traffic is direct traffic which is much healthier than a week ago (>50%). Similarly, we need a way to track the annual fee registration goal.
Social Media Index
We are trying to improve the post quality and formulate a new social media strategy in the past month. Here is the per post performance for the past 4 weeks.
Liker Land App
Other index
Daily active likers : ~ 950 (a mild decrease of 5%)
Daily registration: ~300 Liker ID, keep horizontal. Note that total no. of registration from HK keeps over TW for the second week since Mar 12
LikeCoin button conversion rate: ~ 10%
Previous week
Tried two short articles for content marketing. Will try to keep the practice at least once a week
Composed a newsletter for 4 important news about the project and will be sent out this afternoon
Draft the Q1 project performance infographic
This week
Promote the Medium ->Matters and Vocus news
Continue to reach out key influencers
Migrate to Crisp
Enhance tracking, FB ad
Content marketing
Phoebe Poon (Business Development)
The latest newsletter received a 27% open rate, 4% CTR. Plan to send out another newsletter this week.
Had an initiate plan to rework on the foundation's website to enable donation function. Develop another revenue funnel for LikeCoin as a protocol and open source project.
Drafted the first draft of SIE fund proposal. This week will be sent to advisors for comments and feedback.
Previous week
LikeCoin chain proposal #1 passed.
Was in discussion with some potential validators and by now 10 validator seats have been filled up. In particular, SteemCN has gained the 3rd spot in terms of voting power.
Plus some more validators are coming. The validator ecosystem is expected to become more vibrant.
Given the coronavirus crisis and financial crisis, measures are being conducted to prevent the foundation from malfunctioning. Costs will be minimized. Single point of failure will be avoided as much as possible.
Received usd30k Google Cloud credits to be used for a year. Thanks a lot, Google.