The Foundation has made significant progresses on research and development in July. All of LikeChain, oice, LikeWidget, puttyimages have entered the next stage. As for business development, the team has organized the first event to reward quality content creation, laying a solid foundation for the upcoming Proof of Creativity mining with creative contents.
---
Related links: May report | June report | Buy/Sell LIKE | 中文版
1. Business Development
Reward content creation campaign
The Foundation has organized the first "Reinventing the Like, Rewarding content creation" campaign. It kicked off Proof of Creativity, allowing creators to experience the LikeCoin ecosystem.
The campaign has attracted 143 writers to participate, posting 1442 articles with LikeWidget. LikeCoin Foundation has released 255,000 LIKE that worths USD1,631. 59 readers have given 10,979 LIKE away in total. See the campaign round-up here.
Due Diligence Rating
With a team of 16 professionals, independent Blockchain rating agency DRC has rated LikeCoin protocol 74.24, an A grade. On July 13, DRC organized an AMA event, with a dialogue between DRC Founder Ms Lin Yang and myself. The event has attracted over a thousand people to participate. The detailed rating report can be downloaded on DRC website, and sharing on the event here.
Exchange listing
As of July, LIKE is listed on 6 exchanges:
2. Research and Development
LikeWidget — upgrade to 2.0
The LikeWidget 1.0 for Medium released in June was upgraded to 2.0 in July.
LikeWidget 2.0 allows users to add links to their social media presence including Facebook, Twitter, Flickr and etc, so as to provide payment channel and divert traffic with a single widget.
In August, LikeWidget will further evolve to become LikeButton which supports mining by Proof of Creativity, and extend supported platforms to WordPress which powers 31% of websites in the world. We shall report on this again next month.
puttyimages — alpha 1
puttyimages alpha 1 has released. Although it would still take a few months before it can be on production, those who are eager to see the future may now take a sneak peek at https://dev.puttyimages.com
For geeks, you may even access the source code at github and join us in the development. We do not expect experience on blockchain but only solid fundamentals technical knowledge. You will not only work with the top talents in the forefront of blockchain, but also receive LIKE bounties with every pull request being merged to master.
puttyimages is a Creative Commons stock photo database DApp, which supplies the writers in LikeCoin ecosystem with a huge legitimate photos, all properly attributed. With smart contracts, puttyimages automatically distributes sharing to both writers and the photographers when a collaborative work generates income.
oice — stepping in the LikeCoin ecosystem
oice visual novel community, another project supported by LikeCoin Foundation, also entered the LikeCoin ecosystem. oice users can now bind their LikeCoin ID as wallet, and buy a series of art assets with LIKE. Users can not only enjoy a super discount during the promotion period, but also earn free LIKE by completely the oice mission in like.co.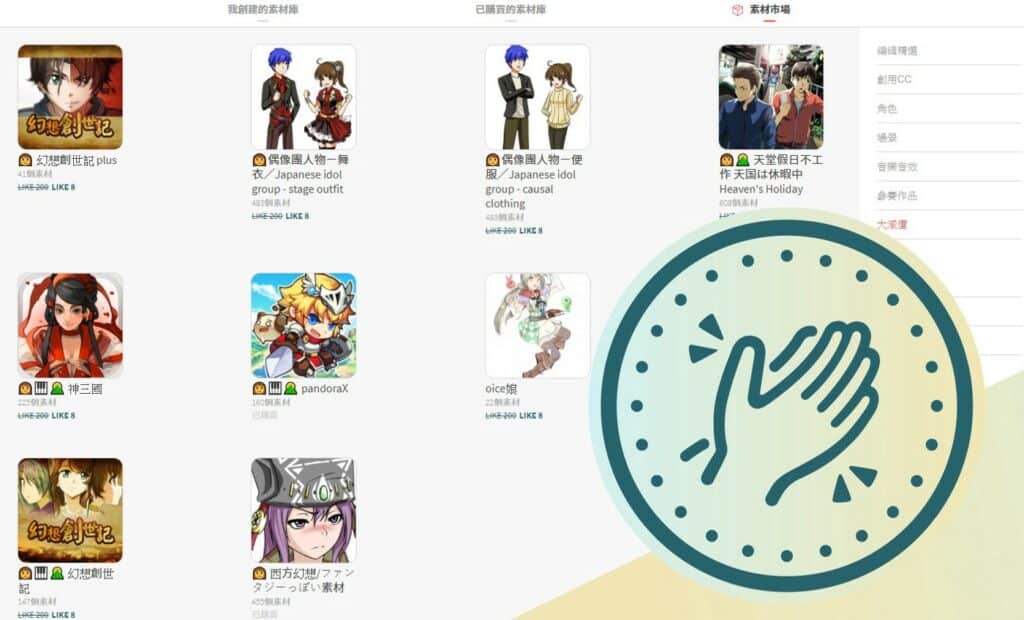 LikeChain — development kick-start
While not as notable as LikeButton, oice and puttyimages which interface with users directly, LikeChain is indeed the core of the protocol, enabling the LikeCoin content ecosystem to function correctly, effectively and cheaply.
We plan to have LikeChain works alongside with Ethereum, with the former taking care of most of the functions including content fingerprint, content footprint, metadata, arbitration and daily LIKE transfer, while the latter responsible for LIKE trading on exchanges.
LikeChain uses Tendermint as the underlying consensus engine, and is programmed in Go. A deeper explanation can be found in "Introduction to LikeChain". The technical specification of LikeChain can be found here.
LikeChain is an open source project, and the source code can be found in github. We shall provide further details of LikeChain later.
3. Community and others
Events and interviews
Invited by World Blockchain Council, I spoke at World Blockchain Conference in Singapore to explain the technical design and product rationale of LikeCoin protocol.
Participated the "Japan and Hong Kong Blockchain Forum" organized by Tideal Exchange on July 21. During the event i've shared the latest development of LikeCoin with participants from Japan, Taiwan and Hong Kong.
Interviewed by "Breakazine" of Breaktrough. The July theme of the "bookazine" is "Making real money", and covers from bartering to quantitative easing, discusses the basic nature of money. Highly recommend to buy one from newsstand or convenience store. Topic of our story is "The experiment to rebuild value", interviewing LikeCoin and Matters, both of which are based on blockchain to support creation of quality contents.
gamer.com.tw reported on oice jam, the visual novel creation marathon co-organized by oice and KADOKAWA.
The Foundation was also interviewed by D100 radio station and HK01. The interviews shall be released in August.
Articles
The team has written various articles to share our views on blockchain, technology and content creation in LikeCoin Medium publication and other channels.
Community
oice and KADOKAWA jointly organized oice jam, a visual novel creation marathon. 50 participants got together during July 7–8 to collaborately create visual novel. Everyone had a great fun.