Network Satistics indicating steady growth
The focus of this session is the August LikeCoin update, commencing with an overview of network statistics. Notably, there has been a consistent growth within the broader LikeCoin ecosystem. The predominant focus has revolved around the Liker Land team, which spearheads the adoption of Writing NFTs. This concerted effort is directed towards bolstering the numerical strength of Writing NFTs. Endeavors have been made to engage more writers on the platform, allowing them to experience the collection of Writing NFTs alongside their readers, thereby contributing to the numerical augmentation.
---
Writers can accept payments in both crypto and fiat currencies effortlessly! Liker Land + Stripe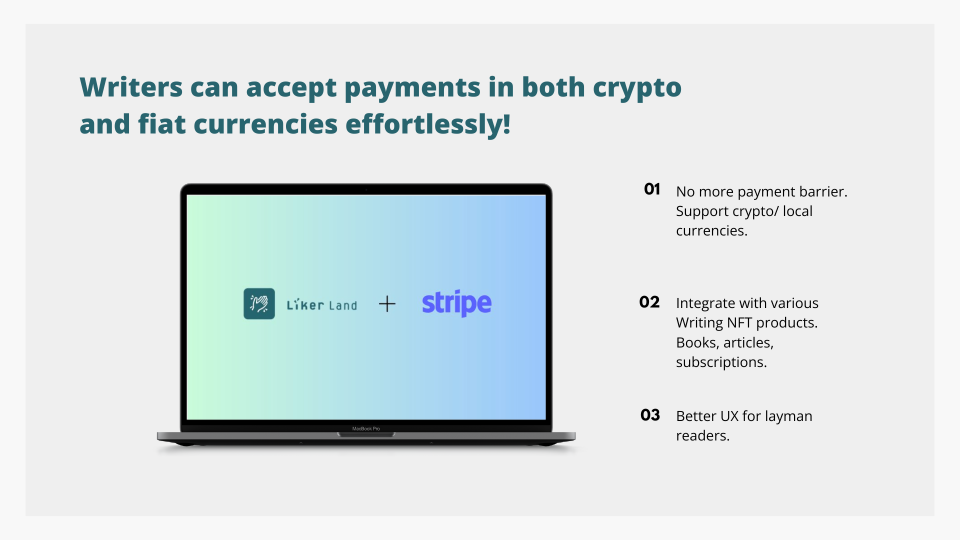 Regarding noteworthy developments from the Liker Land product team, several updates warrant mention. To begin, some may have already noted a significant product feature launch involving Stripe during the previous month. This innovation holds relevance not only for Liker Land but also for LikeCoin in general. Writers and readers engaging with Liker Land's offerings can now directly purchase articles or entity books using credit card transactions. Months of collaborative efforts with Stripe encompassed meticulous due diligence processes and intricate product integrations. As a result, a seamless onboarding and payment experience is now available on Liker Land. For writers, notable benefits arise, including the capability to settle payouts in preferred local currencies. This feature is particularly advantageous for those engaging in subscription-based models or contributing to blogs in Taiwan. Payouts can be received in TWD, USD, or HKD, as per individual preferences. This innovation marks a significant stride in enhancing the onboarding experience, providing a powerful alternative to cater to readers unfamiliar with cryptocurrencies. This feature's scope presently encompasses NFT book acquisitions, with potential extension to other products in the future, contingent on the trajectory of NFT book engagement. This announcement holds significance for those grappling with user experience or customer support concerns when introducing readers to the Liker Land platform.
---
New NFT Books on shelf
There are two new NFT book on the shelf this month:
ACID is an academic journal published by the Institute of Network Society (International Standard Serial Number ISSN 2960-0944). It is the first publication in the Chinese publishing industry dedicated to the study of technical philosophy, network society, and media culture. The ACID includes presentations from speakers at The Seventh Annual Conference of Network Society: Documentary filmmaker Chen Singing, recipient of the Venice Immersive Award at the 79th Venice Film Festival; organizer, facilitator, editor, and writer Mai Ishikawa Sutton; .Jung Hsu & Natalia Rivera, winner of Golden Nica Award in the 'Interactive Art' category at the 2022 Linz Festival of Electronic Arts; Farid Rakun & Julia Sarisetiati from the curatorial team ruangrupa at the 2022 Documenta exhibition in Kassel; and Daniel Ross, translator of Bernard Stiegler's works into English. Additionally, the journal contains seven general articles and one book review.
Over the past forty years, Hong Kong has witnessed profound political and economic shifts, with its film industry mirroring these changes. While films don't offer direct historical records, they serve as reflections of the city's major transformations. The rise and fall of local cinema parallel the fortunes of Hong Kong. Despite their fictional nature, films retain elements of reality, expanding our exploration of alternative perspectives. Like archaeologists, films uncover historical footprints beyond official narratives. This book divides contemporary Hong Kong cinema into three eras: the New Wave period from around 1979, the transitional two decades before and after the Handover, and the New Localism era from 2008. Examining 48 key works, the book reveals their close connection to societal changes, illustrating an intertwined relationship.
---
Upcoming in Q3, anticipate significant advancements
Enhancing storytelling and user acquisition through the new Liker Land landing page, which is already deployed. The focus will be on refining the onboarding process, including matters.news flow enhancement with Edmond's proposal in collaboration with Matters.
Continued improvement of payment and NFT collection processes.
A noteworthy change in the default value of Dynamic Pricing, now at 128 LIKE (previously 8 LIKE), while creators maintain the flexibility to set their own price at 8 LIKE for Writing NFT publication.
Introduction of a social feed feature within user accounts, fostering closer communication between creators and NFT owners.
Ongoing development of a subscription feature to support creators on a monthly or regular basis, exemplifying dedication to constant enhancement.
---
W3 Project Hub x Liker Land
From now until August 31st, by collecting any 30 Writing NFT reports from the W3 Project Hub. you will be eligible to receive a speical edition NFT. This special NFT represents the perspectives of Web3 journalists, creators, and readers of "W3 Project Hub" on Writing NFTs, their vision for the future of textual content industries, and their expectations for Liker Land.
This speical edition NFT is not for sale and is limited to 100 pieces. It can only be obtained through participation in the event, making it extremely precious, so don't miss out.
With this special edition NFT, users will be able to redeem a specially designed "Taiwan Acacia Seed" for LikeCoin in the《閱蒔計劃》game on W3 Project Hub Discord after October 2023. Upon receiving the seed, users can follow the rules and instructions of the《閱蒔計劃》 game to collect tokens and materials through community activities, cultivating your unique "Taiwan Acacia Sprite"(台灣相思精靈)exclusively linked to LikeCoin.
More details are shared on the W3 Project Hub Discord. Start collecting NFTs and join this fun game.
---
Twitter Space Event
Phobe and kin engaged in a captivating dialogue within the confines of the 852dev.xyz Twitter Space. Their discussion delved deeply into the intricate development of Liker Land and LikeCoin, providing illuminating insights into the ecosystem, project prospects, and various other engaging facets. If you missed this enlightening conversation, you can catch up by listening to the replay of Part 1 and Part 2.